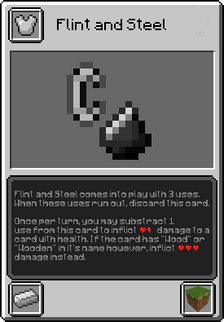 Card maker(s):technoguyx
etfrwqedwadqwddqd
Flint & Steel is an Uncommon Item card. It appears in the Base Set. It can inflict damage to any card with health, being twice as effective against cards that have "Wood" or "Wooden" on their name, such as Wooden Shack. It may be used only thrice before being discarded, though.
Ad blocker interference detected!
Wikia is a free-to-use site that makes money from advertising. We have a modified experience for viewers using ad blockers

Wikia is not accessible if you've made further modifications. Remove the custom ad blocker rule(s) and the page will load as expected.